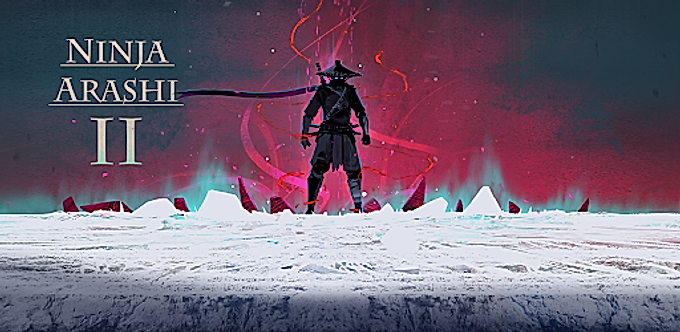 Ninja Arashi 2 continues the story told in the first part. The story is secondary and commonplace. The whole story fits into several lines of one of the heroes helping Arasi.
However, this does not hinder the combat platformer much. There is an adversary, an evil villain who has inflicted a personal offense, there are his vile minions. There is a main character - a brave ninja warrior who embarked on the path of revenge. And nothing will stop him on this path, even the absence of translation into Russian.
If you do not speak English, then there is no particular reason to be upset. Some obstacle will be only descriptions of artifacts and pumped skills. It will take a little time to fully level the character, and the skill icons are informative enough to get an idea of ​​them.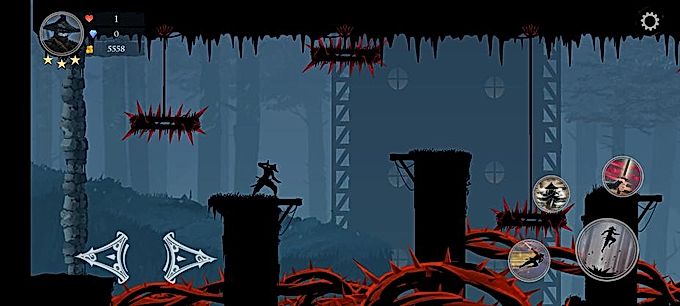 The gameplay has undergone minor changes compared to its predecessor, and all for the better. We still control Arasi using two on-screen directional buttons and four ability buttons - attack / action, cloak, jump, throw / super hit. Among the innovations - the ninja has mastered close combat with a sword, scuba diving with a straw, soaring in ascending air currents using an umbrella, as well as jumping with a grappling hook in some places.
Double jump, sliding on inclined and vertical surfaces remained unchanged. We do all this over 60 levels in three chapters, and three additional battles with the antagonist's henchmen.
The structure of the levels evokes extremely positive emotions. If in the previous Ninja Arashi areas with traps were interspersed with outposts filled with opponents, then in the current one there is no longer such a clear division. Traps and enemies are almost everywhere. Every step can be fatal.
The more pleasant it is to glide like a shadow between bloody thorns and circular saws, leaving behind the corpses of defeated opponents. Their composition, in comparison with the first part, has also changed slightly: kamikaze rushing at the main character with bombs in their hands, samurai "mini-bosses" and archers with exploding arrows will bring even more trouble than the enemies from the previous part.
During the passage, there is a high risk of falling ill with game versions of claustrophobia and agoraphobia at the same time, especially in the first chapter, where the icy wind sucks out the vitality. Only some areas are devoid of any obstacles and enemies. You can stop there to appreciate the excellent work of a designer and artist, listen to wonderful music and take a break from the dangers.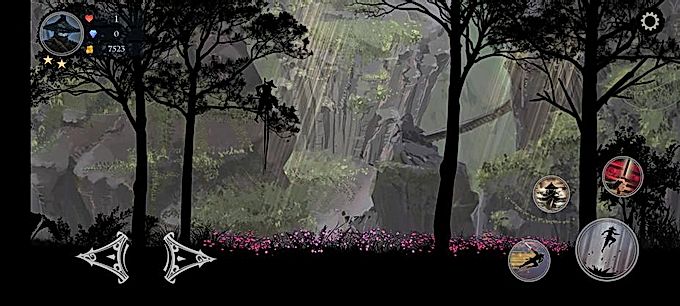 The gameplay seems to be more balanced in complexity than before. There are no traps, looking at which you do not know how to approach them. So old fans (including the author of these lines) may grumble that they lack the hardcore gaming characteristic of Ninja Arashi in 2017. The bosses were especially weak this time. The three-minute final battle left them bewildered. Why is it so easy?
Perhaps the main character was pumped over? Unlike role-playing games, here skills are pumped very quickly, but their impact is not very large. You can collect the required amount of gold for full pumping in the first chapter. There, in caches at some levels, you can find artifacts that enhance Arasi. But you can go through all the chapters without enhancements.
What exactly affects the complexity of the passage is the almost endless lives. At the beginning there are only three of them per level, after pumping - five. But having free money (either gold or premium game currency), you can always buy a little more. Yes, the price of life in gold at the level increases, but since there is not much to spend after the first chapter on it, then repeated races in case of failure are usually not needed. It is enough to pay for the continuation.
By the way, about money, that is, about monetization. The game is distributed on a shareware model. The cost of disabling ads on the Russian Google Play at the time of writing is 109. Premium skins and artifacts can be purchased separately if you have not found all the caches. Given the fact that this is a single player game, as well as its high quality and duration, monetization can be considered quite sparing. Don't waste time advertising, it's not worth it.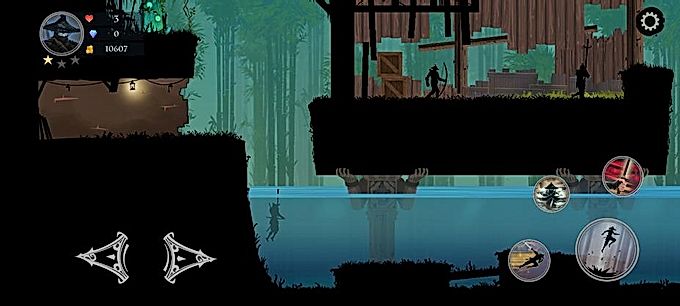 Black Panther is a tiny studio. Only four people worked on the project, sincerely passionate about their work. Based on the pace of development, Ninja Arashi is not their main source of income. Therefore, it is gratifying that these wonderful people found the time and energy to present this indie masterpiece to mobile players.
The developers promise new chapters and the emergence of a competitive mode, but what is already there is wonderful.
Diagnosis
Ninja Arashi 2 is a beautiful and interesting solo adventure for players on mobile platforms. A genre that large studios do not favor, but which is still loved by many. More than a million installations on Android and an average rating of 4.5 on Google Play.
This game is great. She is laconic, self-sufficient, beautiful and smart. Real mobile hokku.
Pro
Classic combat platformer
Well-developed levels
Beautiful by the standards of indie projects graphics
Good music and sound design
Contra
Lack of localization
Easy passable bosses